15 Oct

Be Business Awesome: An Evening with Scott Stratten 11/13/2012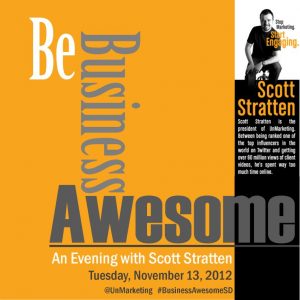 This is a rare opportunity to meet Un-Marketing's Scott Stratten and hear him speak in an intimate setting. He's achieved guru status with over 133k followers on Twitter @Unmarketing and was named one of the top five social media influencers in the world on Forbes.com. His no-nonsense approach to changing the way brands market in today's social landscape has amassed a huge following. Seriously people, his insight could change your business. We are huge fans and that's why we're working closely with Social Media Club to bring him to San Diego. Your ticket will include a signed book, a one-hour presentation with Scott and an opportunity to mix n' mingle with other social marketers. You won't want to miss it.
why you should attend
You'll get:
A signed hardcover copy of The Book of Business Awesome/Book of Business UnAwesome
Entry to the Awesome Mixer before Scott's presentation where you can network with industry professionals
One Drink Ticket
A one hour entertaining presentation from Scott
A chance to meet Scott in person
You will become AWESOME
event details
When: Tuesday, November 13, 2012  at 5:30pm
Where: San Diego Repertory Theatre, Horton Plaza
79 Horton Plaza, San Diego, CA 92101-6144
Tickets: $39 before November 1st using early bird discount code: BeAwesome10 (regular $49)
Event hashtag: #BusinessAwesomeSD
help us spread the word
Impress your friends on Lanyrd that you're going.
Download the web banner to spread the word on your site. Feel free to pass around our "BeAwesome10" discount code too.
Use the sharing buttons below to tell your friends.
What is "un-marketing" you say? Check out this interview with Scott on his first book Un-Marketing, which was an instant best-seller even before it even hit the shelves!