17 Jul

BlogWell Conference: How Big Brands Use Social Media 8/6/2013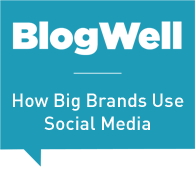 "If you're in social, BlogWell is a must-attend event. There's nowhere else to hear and learn from so many big brands," says Trish Nettleship of UBC Pharma.  On August 6 Fandom Marketing Co-Founders, Rob and Melonie, will be heading up to the Bay Area to live blog one of the year's most prestigious social media marketing events: BlogWell, presented by SocialMedia.org.
The BlogWell conference will present case studies from eight of the best social media programs at large corporations. Social media professionals from brands including Coca-Cola, Citrix, and Whole Foods will be sharing insider tips, successful practices, and maybe a few not so successful practices in social media. Make sure to tune in to the Socialmedi.org Blog to get insider advice and a unique perspective on the experience from Rob and Melonie throughout the entire day. Also, follow @fandommarketing and the #blogwell hashtag.
why you should attend
Hear case studies from eight large corporations: Citrix, HSN, Xerox, Whole Foods, Coca-Cola, Thrivent Financial for Lutherans, UCB Pharma, Intel
Learn from brands (no agencies and no start-ups) sharing their real life experience
Get inspired and discover new ideas you can implement in your own organization
Gain practical, how-to advice to help build your social media program
Ask questions and get real answers
Network with the best (Rob and Melonie, and oh yes, all those BIG brands)
event details
When: August 6, 2013, 1:00-5:00pm
Where: Santa Clara Convention Center, 5001 Great America Parkway, Santa Clara, CA, 95054
Cost: $250