22 Oct

BlogWell Conference: How BIG Brands Use Social Media 12/5/2012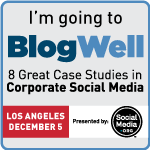 Rob and Melonie will be at BlogWell: How Big Brands Use Social Media in Los Angeles this December rubbing shoulders with the big boys (and girls). And guess what?! We have a discount code for you so you can come too. See below. BlogWell is presented by SocialMedia.org, a community for social media leaders at the world's greatest brands.
One way to explore social marketing is to try and test it yourself. It's fun but we admit it can be risky and budget intensive. Another other way is to study what others are out doing in the space. That's what you can expect to do here. The  one day conference will cover case studies of eight big brands and their success in creating the most effective social media programs for their organizations.  Although, if you ask us we think you should bite the bullet and do both!
why you should attend
Hear case studies from: Kaiser Permanente, Toyota, Life Technologies, Raytheon, MGM Resorts International, Mattel, Microsoft & General Mills
Learn from brands (no agencies and no start-ups) sharing their real life experience
Get  inspired and discover new ideas you can implement in your own organization
Gain practical, how-to advice to help build your social media program
Ask questions and get real answers
Network with the best (Rob and Melonie, and oh yes, all those BIG brands)
event details
Where: USC Davidson Conference Center
3415 South Figueroa Street
Los Angeles, CA, 90089
When: December 5, 2012
1:00pm-5:00pm
Cost: $250
*Get 20% off your ticket using  promo code: BWLA-SMCSD20