29 Jan

OMS: Online Marketing Summit 2/11-13/2013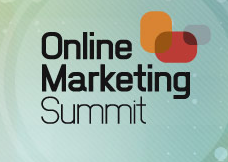 Melonie and Rob will be onsite live tweeting and blogging at the Online Marketing Summit (OMS) at the San Diego Convention Center happening Monday, February 11 through Wednesday, February 13. OMS 2013 is the digital marketing event of the year. It's where marketers come together to learn about new trends and challenges in digital marketing from industry experts. The conference will provide a wealth of information in the form of workshops, conference tracks, keynote speakers and more, complete with an expo hall where you can connect with brands that cater to your digital needs.  We hope you'll join us at the conference.  And whether you decide to attend onsite or follow along online, be sure to say hi!
why you should attend
Learn from experienced professionals through workshops and conference sessions
Gain perspective on a variety of areas in digital marketing (i.e. analytics, strategy, email, content, social, search)
Get inspired and get ideas that you begin to implement to your business or workplace right away
Demo all the latest software and technology in digital marketing in the expo hall
Network with people in all areas of the industry, have a drink and make some connections, you never know what will happen
event details
When: Monday, February 11 to Wednesday, February 13, 2013
Where: San Diego Convention Center
111 West Harbor Drive
San Diego, CA 92101
Cost: Starting from $50 for an Expo Pass to $2,199 for an All Access Pass. For more details and to register click on the button below.
*Save 25% when registering for three or more people using code GROUP3
[button url="http://www.onlinemarketingsummit.com/sandiego/registration/" size="small" color="green" target="_self" lightbox_content="" lightbox_description=""] register for oms [/button]
Event Hashtag: #omsummit
About Online Marketing Summit
Online Marketing Summit (OMS) connects marketers with the knowledge, experts and technologies transforming digital marketing. OMS provides expert-led education and collaborative engagement on the latest insights, best practices and strategies in digital marketing. This approach is fused with the contextual relevance for how digital marketing influences and impacts marketing and business at-large, enabling practitioners to immediately create greater impact within their organization and with their audiences. For more information, visit www.onlinemarketingsummit.com.