24 Sep

The Social Hour at Seaport Village 09/28/2013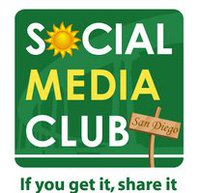 This Saturday Social Media Club San Diego is bringing the fun to Seaport Village. It's not our usual Social Hour held the third Wednesday of each month. This time it's a full day of fun beginning with speed networking, followed by a presentation by Seaport Village's marketing director with an inside look at their social media program. After, we'll spend the rest of the day on a social media treasure hunt through Seaport Village!
Fandom Marketing's Melonie Gallegos and Rob Marlbrough will be in attendance and helping organize the big event.
what you'll learn
Seaport Village is a tourist attraction and a hot spot for locals. Megan will be discussing how she works with the shop owners to keep content fresh on social media and encourage folks to visit.
Learn social networking in action during the social media treasure hunt around Seaport Village. Whether you want to learn to do Instagram for the first time or are looking for Facebook hashtags tips, you'll have fun while learning along with our members.
the social hour september 2013
When: Saturday, September 28, 2013 10:30am – 3pm
Where: Edgewater Grill, in Seaport Village, 861 W Harbor Dr., San Diego CA 92101
Cost: Free to SocialMediaClub.org members, $10 for non-members
Hashtag: #SMCSD
why you should join
Mingle with local social media peeps during the morning speed networking (refreshments provided).
SMCSD is the only professional organization for social media marketers in San Diego.
It's part learning, part fun.
Attend one or all parts of the event.
Social Media Treasure Hunt in Seaport Village… need we say more?!
about social media club
Social Media Club was founded in 2006 and it is the world's largest community of social media professionals with 300+ chapters Internationally. It is also the only professional organization in San Diego dedicated to social media marketing. Fandom's Rob and Melonie are officers of the Social Media Club San Diego (SMCSD) chapter. Its mission is to promote media literacy, standardization, encourage ethical behavior and share best practices.