06 Feb

Social Media Club San Diego 2013 Retreat 2/9-10/2013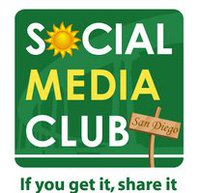 Be a part of Social Media Club San Diego, the only organization for Social Media professionals in San Diego. This weekend SMCSD is hosting its annual two-day planning retreat to kick off the new year. Melonie has taken over as president for 2013 and she will be presenting an all new format. It's going to be a fun way to learn how to use social media and social marketing best practices. Everyone is welcome and encouraged to join! RSVP for day one and day two invites on Facebook. You can join in on one or both. We look forward to hearing your ideas on how we can make 2013 an amazing year for SMCSD!
why you should get involved
To build your career
To learn from local leaders in social media
To connect and network with industry professionals
day one retreat details
Day one will be a fun brainstorming session on 2013 club activities. Enjoy the following VIP Club Specials at Arterra Restaurant in Del Mar on drinks and appetizers.
When: Saturday, February 9, 2013
2-5pm
Where: Arterra Restaurant in Del Mar – Vintage Room
11966 El Camino Real, San Diego, CA 92130

Cost: Free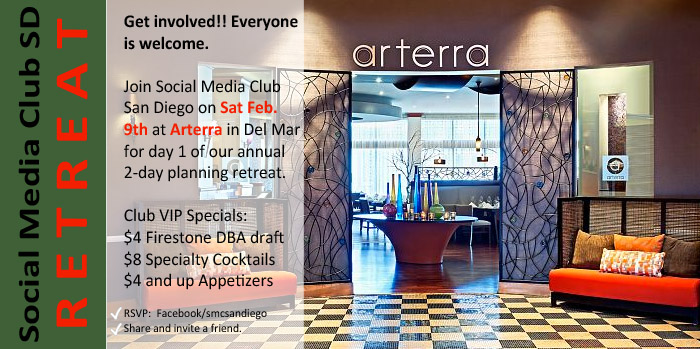 day two retreat details
Day two will be a working meeting where we will take action on our 2013 plans. Here's your chance to join a committee and show off your skills.
When: Sunday, February 10, 2013
10am-3pm
Where: Co-Merge Workplace
330 A Street, San Diego, CA 92101
Cost: Free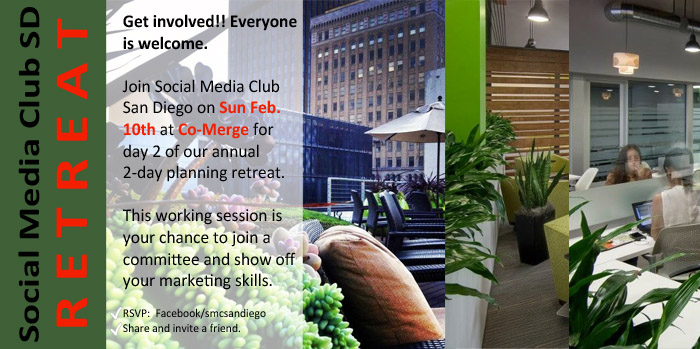 about social media club
The Club's primary mission is to promote media literacy, promote standard technologies, encourage ethical behavior and share best practices. We want to help you explore your personal and professional passions by helping you connect with a community of your peers based on both geography and areas of interest. We want to ensure that the world of Social Media does not become an echo chamber of self-reinforcing thoughts, but is instead fueled by diversity of opinion and perspective.