05 Jul

Social Media Day San Diego 2013 Recap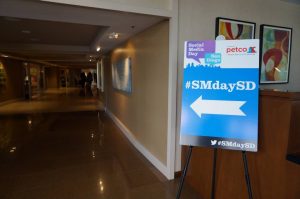 In 2012 Mayor Jerry Sanders officially proclaimed June 30th as Social Media Day San Diego, so it was no surprise that Social Media Day San Diego 2013 was the biggest and best event yet. Fandom Marketing co-founder Rob Marlbrough and Casual Fridays founder Tyler Anderson set up the scene at the San Diego Marriott Marquis and Marina for an event that was part offline social interaction and part education. Starting with educational tracks for novices and professionals alike, and ending with a swag filled mixer, Social Media Day San Diego was a great day to celebrate the ways in which social media has changed our lives.
educational tracks
Whether you are new to the world of social media or a seasoned professional, the educational tracks at Social Media Day San Diego had something for everyone. ABC 10 News's Kimberly Hunt joined Little Tommy, Laura, and Emily from KyXy's Jeff & Jer Showgram to show users how to get connected; and Stacy Zapar, Lynette Young, and Claudia Sandoval taught us to go further with social media via LinkedIn, Google+, and Instagram.
Professional social media users got fantastic tips on Facebook marketing and strategy from industry pros Mari Smith and Amy Porterfield, and learned how top San Diego companies are making social media work for them at a panel that included social media minds behind Qualcomm, Petco, the San Diego Chargers and the U-T San Diego.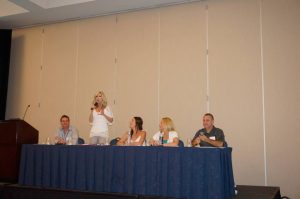 cocktail hour
After a day packed with learning, it was time to mix and mingle offline while sampling culinary treats from the Marina Kitchen. Beyond making new connections, cocktail hour was packed with free goodies from the sponsors. Attendess had the chance to create a custom pair of Vans, sample gourmet beef jerky, hop in the FotoBox photobooth, and have their #SMDaySD tweets showcased on the Minglestream tweetwall among many others.
A day filled with fun, networking, and knowledge, Social Media Day San Diego 2013 was a massive success! For more information go to the Social Media Day San Diego website, and check out the photo gallery on the Fandom Marketing Facebook page. Thanks to everyone who worked hard to put on a great event, and we look forward to seeing you June 30, 2014.
top #smdaysd tweets
Content is KING, but engagement is QUEEN and she rules the house!! #smdaysd #smday

— Mari Smith (@MariSmith) June 30, 2013
How to get out of #LinkedIn jail: http://t.co/sB6jEQipBm! @smdaysd #smdaysd

— Stacy Donovan Zapar (@StacyZapar) June 30, 2013
Sitting with my co-panelist @stacyzapar at #smdaysd http://t.co/bBXuLpBaZJ

— Lynette Young (@LynetteRadio) June 30, 2013
@tylerjanderson In all seriousness, I've been to $$$ conferences not half as good as #smdaysd. Wish I could have stayed longer.

— Joel Price (@joelprice) July 3, 2013
"Networking should be done online and offline. Remember your own backyard." Great quote from @StacyZapar today! #SMDAYSD

— Siera Jang (@SieraJang) July 1, 2013
Sorry, @markkodesh — you can't look tough with a blue boa on! #havingfun #smdaysd http://t.co/NpBxQaKEKv

— Jodi Kodesh (@NBCJodi) July 1, 2013
My industry rocks, thanks for confirming this #smdaysd #socialmedia #marketing

— Kortni Butterton (@KortniButterton) July 1, 2013
LOL "@BriGeeski: Lots of heads down… I am clearly at a social media event. Tweet tweet. #SMDaySD http://t.co/NMiVVjNi6r"

— Melonie Gallegos (@melonie) June 30, 2013
Make sure u don't get "swammed" on LinkedIn #smdaysd (look it up)

— Julien Brandt (@Julienbrandt) June 30, 2013
Google+ is a forum to show up, not "spray and pray" says @LynetteRadio #smdaysd

— Elin Stebbins Waldal (@ElinWaldal) June 30, 2013
Early studies show that younger demos are abandoning @Facbook to avoid their parents. #kids #smdaysd

— Stephanie Garcia (@heystephanie) June 30, 2013
"When it comes to social networks, when the marketers move in the members move out." @MariSmith #SMdaySD

— Melanie Sheridan (@MelanieMedia) June 30, 2013
If you use OPC, you must make sure to attribute! – @MariSmith on the best practices for using other people's content #SMDAYSD

— Jessica N. Vasquez (@jessnvasquez) June 30, 2013
Did you know Facebook power editor puts ads in the news feed instead of sidebar? Up to 5% click through rate! per @AmyPorterfield #smdaysd

— chrisbrowning (@chrisbrowning) June 30, 2013