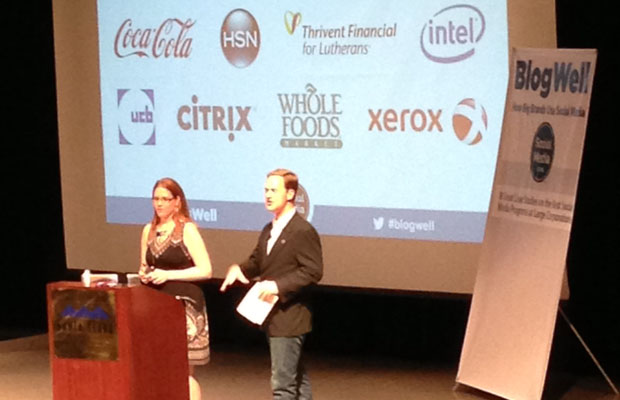 11 Aug

Social Media Marketing Case Studies by Coca-Cola, Whole Foods, and More from BlogWell Bay Area

The BlogWell conference provides a unique opportunity to hear inside stories from large corporations. Case studies are presented by marketing executives who openly share about their corporate social media program. It's best practices in action! Read on to learn about social media successes and failures inside Coca-Cola, Whole Foods, Xerox and more.

BlogWell is incredibly insightful and the reason why Fandom Marketing has supported it for two years in a row by sending guest bloggers Melonie Gallegos and Rob Marlbrough to cover the conference. This year we attended the 25th BlogWell held in the Bay Area. Over 90 brands came to hear Coca-Cola, Whole Foods, Xerox, HSN, and Citrix present their case studies. Here are social media marketing case studies and top tweets you won't want to miss.
Live Blog Coverage
Coca-Cola by Melonie Gallegos
Ashley Callahan, Manager of Digital Communications and Social Media
How Coke uses data and content to break through the noise. (Visit the new Coca-Cola Company website, now named Coca-Cola Journey. The redesigned newsroom format focuses on brand stories.) See more 
Compelling content can be a blog, photo, or a video. The water cooler test is applied to all stories. Does it answer the "Why should I care" test? Does it surprise you? Is it compelling with universal appeal? Is it being measured systematically?
Thrivent Financial by Rob Marlbough
Stacy Eckes-Borys, Social Media Relationship Manager
How Thrivent Financial used social media to educate and motivate members for a historic vote. See more
To get the word out via social media, we encourage sharing and have employees spread the word on their own social networks. Most important was the listening, responding, and engaging, with a crisis plan in place.
Whole Foods by Melonie Gallegos
How Whole Foods Market keeps their customer experience in balance with both brand-level social and a large network of local presences. See more
We have empowered, trained, smart people at the local level and that's why local social works for us. If you don't trust the people who are local it's not gonna work.
Intel by Rob Marlbrough
Jennifer Lashua, Manager of Global Social Communities
How Intel uses social media to celebrate technology with global consumers. See more
Jennifer explains their product launch countdown, Intel style. Intel used a tweet counting down to the #4thGenCore with an image showing: 3,337,200,000,000,000 nanoseconds.
Social Media Ethics Briefing
SocialMedia.org's CEO, Andy Sernovitz provides advice on outreach best practices and keeping your brand FTC compliant. See more
It's your job to stay FTC compliant, do the right thing, and be ethical. The 2013 FTC Warning says, "Stop ignoring us, stop faking it, and if you can't be honest and disclose properly then you should not be doing it." We can assume more enforcement is on the way.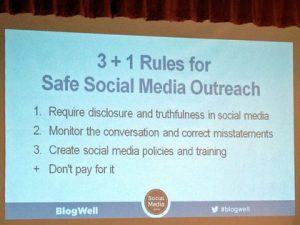 All live blogs
Top Tweets
The @COCACOLACO is a beautiful example of a corporate website that focuses on storytelling – http://t.co/RPIa3QedE2 (@ashhazie) #BlogWell

— Justin Levy (@justinlevy) August 6, 2013
Citrix social media guidelines – http://t.co/dX7XaTxWdJ This is a requirement for employment at @citrix #blogwell — Bobby Isaacson (@bobbyisaacson) August 6, 2013
WOW! @WholeFoods has 815 social media accounts between their brand/corporate and local accounts. – via @NatanyaP & @justinlevy | #BlogWell — Marissa Rosen (@MarissaR1) August 6, 2013
Xerox sent a writer to cover the TEDMed conference as a reporter to stay true to the Health Biz Decoded news site roots. Nice! #blogwell — Natanya Anderson (@NatanyaP) August 6, 2013
Fandom Marketing in the house! @melonie and @DowntownRob live blogging from #Blogwell at 1:30pm. pic.twitter.com/8I1ED6yJnr

I get the need for disclosure, but I dislike the "tweets are my own" note in so many Twitter bios… thoughts? #blogwell

— Laura Kinson (@LBKinson) August 6, 2013

BIG thanks to our live bloggers for covering #BlogWell: @JaumePrimero @amynhall @downtownrob @melonie @jcommunication http://t.co/8f0igqbShK

— SocialMedia.org (@SocialMediaOrg) August 7, 2013

— Fandom Marketing (@FandomMarketing) August 6, 2013
What makes BlogWell different from other marketing conferences is that we learn what companies have DONE, rather than what companies should be doing. Things change quickly in digital marketing. This open sharing environment for marketing executives is important to elevating everyone's knowledge and establishing best practices. Thank you to BlogWell and the brands who are brave enough to try new things before most companies are willing to, and talk about it.
View our full set of conference photos on Facebook