17 Apr

Social Media Marketing World 2013 Recap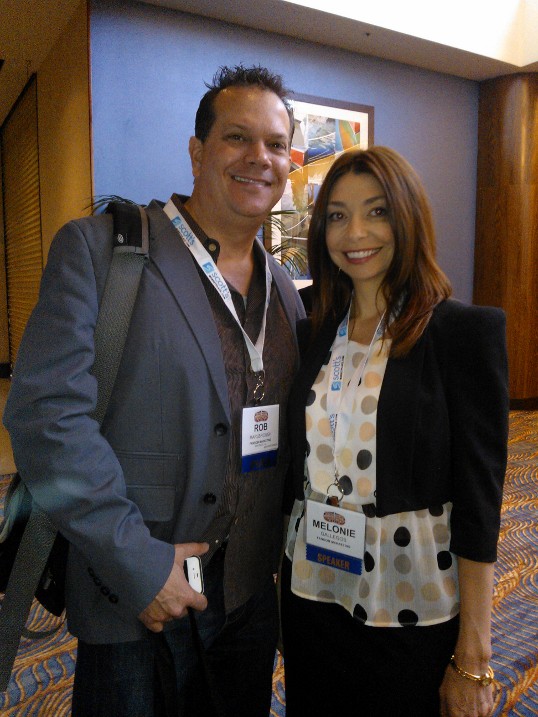 Fandom Marketing team members were honored to attend the very first Social Media Marketing World conference presented by Social Media Examiner on April  7-9, 2013 at the San Diego Marriott Marquis & Marina in sunny San Diego. Co-founders Melonie Gallegos and Rob Marlbrough had the pleasure of being Track Moderators while social marketing specialist, Angela Quisumbing took part in the festivities as a volunteer and Room Monitor.
Melonie led several panel discussions featuring social media experts such as Joe Pulizzi, Aaron Kahlow and and even the Social Media Examiner himself, Michael Stelzner. Rob and Angela lucked out with having some of social media's big name bloggers, authors and all-around experts speak in their designated room, including Jay Baer,  Chris Brogan and Nichole Kelly.
1. networking opportunities
Events: Social Media Examiner sure knows how to throw a party or two. Over 600 social media and marketing experts flocked to the opening-night networking working party at the Natural History Museum, a day before the actual conference began, just to get connected. The following day included a fun boat cruise on the Inspiration Hornblower. We had so much fun watching Nichole Kelly break it down on the Karaoke mic to "Baby Got Back!" Classic and unforgettable! Just a kind reminder that we need to get loose sometimes.
Mike "Ambassador" Brunny: The Ambassador walked around in his colorful bow tie making sure attendees made the connections they came for. It was an interesting and very new concept to the conference setting. He helped coordinate networking activities such as Networking Bingo and Morning Walks to get people talking.
Networking Plaza: This was a ballroom dedicated for networking in between sessions complete with coffee, snacks and tables for meetings. It's also where sponsors hung out during the conference to share what they do and hand out goodies like t-shirts, popcorn and gum balls! Book signings were held here and people simply made connections and not to mention memories in the Networking Plaza.
Social: Finally, Social Media Marketing World would not be complete without social networking, even at a physical conference. They thought of everything from the basic Facebook event page, promoting the crazy our of the hashtag #SMMW13 to even creating a variety of program spreadsheets suitable for right and left brainers! Attendees were able to see the conference tracks on bizzaboo.com and keep track of all social mentions on Twitter, Instagram and Google+ using socialchomp.com.
2. awesome speakers
There's not doubt about it, Social Media Examiner brought on the education. The tracks were definitely well thought out to help us learn the latest trends and also get back to the basics. We were excited to be in the presence of such prestigious speakers and experts in social media like:
There were so many more speakers and people who contributed to the education aspect of this conference, too many to name them all, including the attendees. Which brings us to our next point, social buzz!
3. social buzz
The conference generated so much content from attendees, sponsors and participants. Here are some of the best of the best we could find!
Top Tweets:
A brand's subscribers are 3X more likely to open an email if they follow the brand on Twitter – @kyleplacy #smmw13
— Katy Harrison (@KatyHarrison20) April 8, 2013
"Be you in 4 places: online, offline, in public, & in private. It's an easier, more free way to live." @davekerpen #smmw13

— Mari Smith (@MariSmith) April 9, 2013
#smmw13 @chrisbrogan is telling you to stop playing in the lab, start measuring bodies and $, stop tracking hours! twitter.com/DowntownRob/st…

— ♛DowntownRob♛ (@DowntownRob) April 9, 2013
Check out where those tweeting about #SMMW13 are from… not surprisingly San Diego leads the way #SMMW twitter.com/socialfresh/st…

— Social Fresh (@socialfresh) April 9, 2013
#smmw13 takeaways: get out of the lab, goal+measure, set a target and go after it, measure your channels, trash "extras"

— Chris Brogan (@chrisbrogan) April 9, 2013
Sketch Notes:
Check out these extremely creative sketch notes from our favorite copywriter, @AnneMcColl. So cool, it was retweeted by several of the speakers mentioned above!

social media marketing world 2014
Social Media Marketing Works is coming back to San Diego next year! Stay tuned for more details. We look forward to seeing you there. And if you missed out on this year's conference you can purchase a Virtual Ticket which includes live recordings of all the sessions or keep following the hashtag #SMMW13 because yeah, it was so good, people are still talking about it! Congratulations to Michael Stelzner and the Social Media Examiner Team for putting together such a successful conference.
Well, this is what we enjoyed at the conference. We want to hear what you thought and what parts of the conference were your favorite! Leave a comment below.